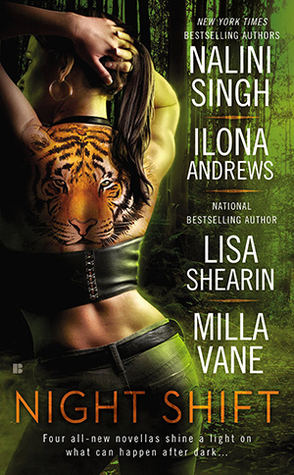 Wheee! Time got away from me, and I didn't realize what day it was. Then, I opened up my Kindle. SCORE!!!! Woooo hooo!!!!
There it was. Night Shift. Night-Flippin'-Shift! Uh, do I sound a bit excited? You bet your Double Chocolate Chocolate Mocha Pecan Hand Made Ice Cream I am! I dropped everything, and I do mean everything, to plop myself in my comfy chair with a big ol' mug of tea, a bar of chocolate, and my reader to indulge myself in this long-awaited joy. And it doesn't disappoint!
OK, calm down and let the readers know what you are talking about, Leiah. Deep breaths… calm… whew. There we go.
Now. Night Shift is an anthology with stories by Nalini Singh, Ilona Andrews, Lisa Shearin and Milla Vane.
The first story, by Nalini Singh, is entitled Secrets At Midnight. To be honest, I have several of Ms. Singh's works on my 'to read' stack, but other books have required my attention, leaving Ms. Singh to languish in the "Man, I really want to read that but…" stack. Now? Well, I am certainly going to have to do a bit of jiggling to move her work over to the "OK, these are things that are getting read first…" pile.
Bastien Smith is a Leopard changeling, a 'were' to those of the UF genre lovers club.
He is a bright man, running the finances of his large, influential pack. He has been under plenty of skirts, but for the last eight months, it simply hasn't been interesting to him. He wants more. And when he scents that special scent, he is thrilled . . . only thing is, the bloody scent keeps disappearing, leaving him walking the streets in his cat form until the early hours, searching for that amazing fragrance. When he
does track it down, what he finds is more than surprising. Riley, a kindergarten teacher, owns the scent. But she is an amazing and confusing puzzle – a puzzle he is determined to solve.
What I like most about this story isn't just Riley, though I really liked her, as well as Bastien and the other characters. What I really loved was the world building – a world unlike any other I have walked in the genre. Future technology blends seamlessly with human, changeling and psy living side-by-side in apparently easy relationships. But there also seems to be a war brewing in the background. I have got to see if this is part of a whole I have yet to discover. Oh, yeah, baby! I LOVE me some wondrous world building!
Magic Steals! Magic Steals! Magic Steals! I LOVE DALI AND JIM!
This is the one we have been waiting for, fellow lovers of Dali, the semi-blind, vegetarian white tiger. Honestly, Dali is one of my top favorite characters in the Kate Daniels series by Ilona Andrews. Dali is so much fun. She is brilliant, funny, and magical. Too bad she is also half-blind (those coke bottle lenses are a real pain, aren't they Dali? I remember when I wore those before my Lasix surgery. Too bad magic doesn't allow for the surgery to stick in your case!) Being the only grass-eating tiger is a real social nightmare in the carnivorous clan led by her honey-bunny, Jim Shrapshire, head of the Cat Clan and ultimate badass. She can't even remember who or where she is for a good minute after
her change – so how could she possibly be enough for Jim, strong enough to stand by his side as Alpha Female of the Clan? Besides, in her mind her skinny, flat-chested, knobby kneed self isn't anywhere near what big, strong Alpha Jim could need in his life, right?
Well, maybe not so much! Circumstances are dire for Eyang Ida Indrayani (Grandmother Ida Indrayani in Indonesian) and Dali, with the help of Jim, is her only hope. And what Jim has always told her is more true than she could have imagined. She really IS stronger than she ever believed!
This story literally made me feel giddy!
Lucky Charms by Lisa Shearin
Confession. I am not sure I had even heard of Lisa before. I know, a lot of you are shocked. But hey, So Many Authors, So Little Time, right? Her "About" page says, in part: Lisa is the national bestselling author of The Raine Benares novels, a series of six comedic fantasy adventures. Her next series–The SPI Files–is an urban fantasy that's been described as Stephanie Plum meets Men in Black.
Well, with descriptions like that, it was "Over To Goodreads And Put Them All On The List" time!
I have put away the Kindle for now – I really DO have to feed the four-leggeds in the house and I have knitting to do for a gift, but I will be picking my reading up again tomorrow. Who can possibly not want to dive right in when the second paragraph of the story reads:
It was four in the morning. I was in a stolen bakery delivery truck that's been nearly totaled by three gargoyles. In the truck with me were two hungover elves, a pair of stoned leprechauns with the munchies, a naked Russian werewolf, and a hot partner, who was actually more of a bodyguard, in a race against a goblin dark mage to retrieve a leprechaun prince with a tracking chip embedded in his left ass cheek.
The trail ended at a McDonald's in the Bronx.
Need I say more? Review of this story and The Beast of Blackmoor by Milla Vane tomorrow!