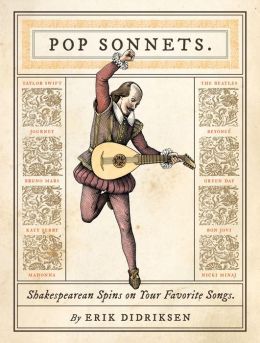 "I don't pretend to be Captain Weird. I just do what I do." – Johnny Depp
OK, here is a question for you – Do you think William Shakespeare is rolling in his grave? No, really. Cee Lo Green DID base his "F**k You!" on one of his sonnets. Just sayin'.
I notice my beloved on thy arm,
and from my lips I spit a vulgar oath
My want of wealth as caus'd my courtship harm,
and so I've lost my love;
Ye(sic) on your both!
Translated to:
See you driving 'round town
With the girl I love and I'm like
F–k you
(Ooh, ooh, ooh)
I guess the change in my pocket
Wasn't enough, I'm like
F–k you
And forget her too
Erik Didriksen's "Pop Sonnets" is based on the 1743 works of Sir Kirk de Edin who transcribed a small percentage of Shakespeare's lesser known sonnets to the written word. While many may have been lost over time, as Shakespeare wrote thousands of unpublished sonnets during his lifetime – a lifetime that included the "Great Plague" of 1667 to 1666, and may have led to the loss of much of his work – de Edin rescued as many as he could.
In 1951, Colombia record exec Robert Lorre discovered the manuscripts – and a new era of pop music began, and has continued on to this day. Now, Didriksen has reprinted the original sonnets from the de Edin collection that have inspired popular songs, and the titles of the songs the sonnets inspired. (As an aside, The King's Men, Shakespeare's original minstrel troupe, passing down through the ages, scored a no. 1 hit in 1963 with . . . wait for it . . . "Louie, Louie"!)
This collection is wonderful for its revelation of sonnets of the master you may never have heard of – but it is also a screaming riot when you realize just what songs have been based on the sonnets! From the aforementioned Cee Lo Green piece, to artists such as The Animals (House of the Rising Sun), Black Sabbath ("Iron Man"), Michael Jackson ("Thriller") and, yes, The Village People's "YMCA" (!) and Nena's "99 Luftballoons" to works by Buddy Holly, Tommy Tutone, Frank Sinatra and, yes, John Travolta and Olivia Newton-John (giggle) this is a funny, quirky, fascinating look into a modern take on the Bard's work. Grab it, enjoy it – and if you are like me? Go make a mix playlist of all the songs, in order. I can't Wait!
I received "Pop Sonnets" from the publisher in exchange for a realistic review. All thoughts are my own. If you enjoy my review, please click "Like" on Amazon. It helps both me and my authors! Thank you.