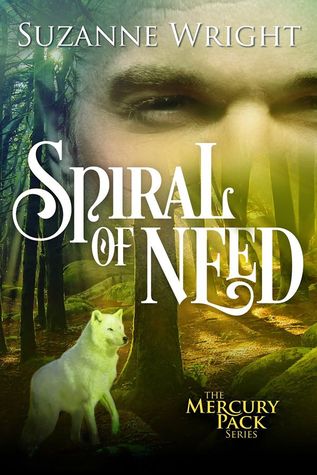 "Nothing like being accused of attempted murder to complete a girl's Friday evening." What a great opening line to a new series by a favorite author!
I have been a fan of Suzanne Wright for quite some time – since I first found her "Phoenix Pack" series. The stories are well written, have great backstory and, within a paranormal romance setup, speaks to issues we all face today. Prejudice, hatred, all the nasty habits of humanity. But her works speak of the good as well – love, duty, honor. All the things that, if we would only concentrate on those instead of hating one another, we could become better, stronger, and more worthy of our presence on this beautiful planet.
Now, Ms. Wright has a spin-off that melds the Phoenix Pack with the newly created Mercury Pack. Led by Nick Axton and his mate, Shaya Critchley, a previous member of the Phoenix Pack, this first book is just as strongly written, and just as filled with wonderful characters and situations as the Phoenix series.
We first met Derren, the unwilling Beta of the Mercury Pack, in "Carnal Secrets," book three of the Phoenix series. Broken and bitter from years imprisoned as a 14-year-old for a crime he didn't commit, Derren is tough, introverted, and brutal. And the one thing he hates, more than anything else, is a Seer. But when Cain Holt calls, Derren can't say no. He owes Cain, another shifter juvie prisoner, a favor. And he can't turn down Cain's request to rescue, and protect, Alyssa "Ally" Marshall from an intolerable situation in her present pack. Of course, Derren has every reason to hate Seers. Not only was he betrayed by a Seer, whose son committed the rape Derren was accused and sent to prison for. His Alpha and best friend, Nick, and his enforcers Marcus and Roni were also betrayed by Seers. Yep. Having a Seer in your pack can be a wonderful thing – but a bad Seer can be as bad as a bad Alpha – deadly and destructive.
Suzanne continues her wonderful world-building and character building, her story telling strong and well designed as usual. Betrayal, hatred, back-stabbing and murder are all part of the story – and yet the strong bindings of family and pack are intertwined, pulling the story forward and drawing me into Suzanne's world once again. Suzanne, like Eve Langlais, is a strong writer of paranormal romance without the ridiculousness of so many other paranormals. Her female characters, both the good and the bad, are truly strong characters, whether you love them or hate them – and some of them you really, really hate! My 'go-to' authors for nights when I need to read strong women, complex plots and a great world so close to our own.
I received "Spiral of Need" from the publisher in exchange for a realistic review. All thoughts are my own. The only thing I would change is the title – in my opinion it doesn't really 'fit' the book, but otherwise, I would highly recommend it to anyone who likes strong characters and well written storylines. I would call it more "Romantic Paranormal Suspense" than simple "Paranormal Romance." It is stronger than simple PR.
Publishing TODAY!