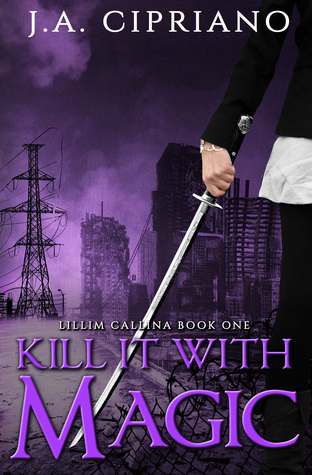 Here's the thing. I don't normally like "YA" books. Hey, been there, done that, didn't even want the flipping "I lived through being a teenager" T-shirt. But I was looking for a Whispersync book, I had downloaded this book from a "freebie" email, and though there was no description on the "About this book" on my Kindle, the first couple of paragraphs grabbed my attention and made me laugh.
"What kind of a tip do you give someone you've just blown up? That's the thought that ran through my mind as I frantically rummaged through my pockets for something, anything to give the delivery boy I'd just blasted into the brick wall outside my tiny apartment.
It wasn't my fault, I swear. It's not like my day planner reads: brush teeth, shower, get dressed, blow up delivery boys." – Lillim Callina
You have to admit, that is pretty darn humorous, right? So, I paid my $1.99 for Whispersync, popped on my headphones, and wandered into my studio to work on my art. Let's face it – that is a LOT less money than paying for a full Audible Edition! And you can simply stop listening and start reading any time you want.
Score.
Come to find out, Lillim Callina is actually sixteen – but you wouldn't know it from reading her. Well, actually, actually she is something like six years old. Yeah, weird, huh? You see, Lillim is a reincarnation of one ass-kicking, name-taking female with a nasty streak and some deep, dark secrets. Throw in a ton of magic, a spectacularly sped-up growth rate, a mother who thinks that the perfect way to 'teach' her toddler "Vampires Bad!" is to tie her to a tree outside a cave full of blood-suckers right at sundown (OK, I just thought my egg donor was a raving lunatic!) a dragon turf war, and a truly pissed-off werewolf king (Well, OK. She did accidentally get his son kidnapped as a pawn in the aforementioned dragon turf war. Sigh.) Add to that various and sundry other weird, hideous and downright loco monsters, and this was a riot wrapped in a Dresden-esque ass-kicking on steroids. Lillim appears to be sixteen, but her thought process are wildly skewed by the memories from her eight former lives – especially the previous one – making her a clever mix of teenager and burned-out middle aged woman.
This is non-stop action, with plenty of blood and blades to go around. Lillim is quite interesting, though I had a bit of a problem with just how often, and just how severely, she got herself beaten to a pulp and still walked away. The author goes to great pains to write her as a mortal creature in a world filled with immortal monsters – but it stretches belief when every time she turns around she is being slammed into brick walls by dragons, set on fire, and basically subjected to brutality that should have killed her. Over, and over, and over again. Still, the book was amusing, the story itself is unusual – not as formulaic as is so common these days – and Lilllim is an interesting character with a striking backstory.
Overall, I don't regret the time I spent with the book. If you are a fan of YA, I recommend it. If you aren't a fan, you still might enjoy it – I did.