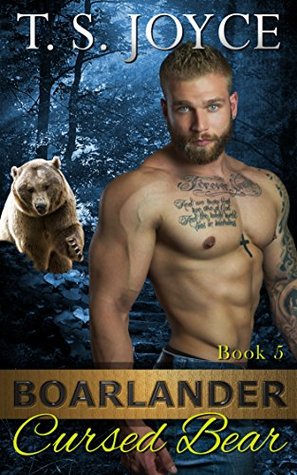 "They say that abandonment is a wound that never heals. I say only that an abandoned child never forgets." — Mario Balotelli
Clinton Fuller isn't right in the head, not in any way, shape or form. Pushed from one lumberjack crew to the next on Damon's Mountain, he has been a pain-in-the-ass for each of the crews. And the Boarlander Crew is his last stop before he spirals too far and the Crew Alpha, Harrison Lang, has to put him down for the safety of all the shifters on Damon's Mountain. This is his story, and for all I have bitched and moaned about his presence throughout all the Damon's Mountain stories, I have also gotten bits and pieces of his story all along, and have begun to feel a mite sorry for him, though I never really came to know him. But now, we all get to learn what made Clinton the way he is.
And you know what? I not only understand Clinton now, but my heart is totally (well, maybe not "totally" totally, but still) softened to his story. All of his acting-out makes sense, and I am so glad I got to know him. Of course, Clinton's story isn't the only story told in Boarlander Cursed Bear. The political story of 'Humans vs. Shifters' comes to a head as the Damon's Mountain Crew (and all the shifters in the US, though the story doesn't reach that far) wait for the vote that will decide whether the shifter population retains their right to live, love, and mate as they choose.
This is a terrific end to a wonderful series of books, and I recommend them highly to lovers of Urban Fantasy Romance who want a bit more than just "wham-bam-we-mate-for-life" in their books. These are deeper than that. The reading order, from T. S. Joyce's website is below.
As always, my disclaimer: I have received books from T.S. Joyce in the past in exchange for a realistic review. I am not sure if I received this one for free, so I will just say that I have received books in the past in exchange for a realistic review and this one may or may not be one of those, but how I received the books has no impact on any of my reviews. If you haven't read Joyce's Damon's Mountain Series, I highly recommend you read them in order. They are so much fun, yet running parallel to the same hatreds and prejudice we see in the world today that they are more than the sum of their parts. Enjoy!
Reading Order for Damon's Mountains:
Lumberjack Werebear (Saw Bears, Book 1)
Woodcutter Werebear (Saw Bears, Book 2)
Timberman Werebear (Saw Bears, Book 3)
Sawman Werebear (Saw Bears, Book 4)
Bear My Soul (Fire Bears, Book 1)
Axman Werebear (Saw Bears, Book 5)
Bear the Burn (Fire Bears, Book 2)
Bear the Heat (Fire Bears, Book 3)
Woodsman Werebear (Saw Bears, Book 6)
Lumberman Werebear (Saw Bears, Book 7)
Gray Back Bad Bear (Gray Back Bears, Book 1)
Gray Back Alpha Bear (Gray Back Bears, Book 2)
Gray Back Ghost Bear (Gray Back Bears, Book 3)
Gray Back Broken Bear (Gray Back Bears, Book 4)
Lowlander Silverback (Gray Back Bears, Book 5)
Last Immortal Dragon (Gray Back Bears, Book 6)
A Very Beastly Christmas (Gray Back Bears, Book 7)
Boarlander Boss Bear (Boarlander Bears, Book 1)
Boarlander Bash Bear (Boarlander Bears, Book 2)
Boarlander Silverback (Boarlander Bears, Book 3)
Boarlander Beast Boar (Boarlander Bears, Book 4)
Boarlander Cursed Bear (Boarlander Bears, Book 5)