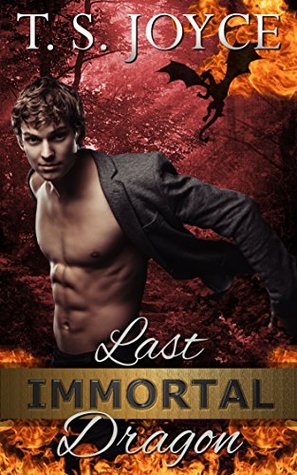 "I hope to outlive my enemies." — William Sanderson
"I watched the spinning stars, grateful, sad and proud, as only a man who has outlived his destiny and realizes he might yet forge himself another, can be."  ― Roger Zelazny, Isle of the Dead
Outliving your enemies is good. Outliving those you love, your family, your friends, the very world you once knew? How terrible. Excruciating loneliness. Emptiness. Watching everything and everyone you know age, die and turn to dust.
Such is the life of Damon Daye. For you see, Damon Daye is the Last Immortal Dragon. The only one of his once numerous kind. Alone. So terribly, terribly alone. Unable to die, he retreats to his mountain, Damon's Mountain, where he watches over the Bear Shifter Crews under his protection. He grows too close however, to the scraggly crews under his care, leading to a need he hasn't known for a while. His dragon wants to care for someone again – a child of his own.
Determined to ascertain his boss fulfills his needs, even though Damon fights against it, Mason brings a woman to Damon's Mountain. A woman who he believes will sign Damon's contract to have a child with him, then walk away – something that has worked for Damon in times past, to assuage his desperate loneliness. But this time? This time both Damon and Mason are in for a surprise. For the woman Mason brings, Clara Sutterfield, an Alpha Bear, is much more than either expected. And that very fact may signal the destruction of not only everything Damon has built on the Mountain, but the destruction of the Last Immortal Dragon himself.
I absolutely adored Last Immortal Dragon. I have read (and reviewed) many, if not all, of T. S. Joyce's Damon's Mountain stories and have enjoyed every one. Ms. Joyce writes interesting stories, with true storylines – not just a weak storyline as a cover for multiple sex scenes. The sex is there, of course (this is a 'shifter meets mate' series after all) but there are actual stories here. Stories that carry the theme through the whole series and touch on real world issues such as race hatred, multi-racial marriage, environmental issues, human fear of the unknown, and political manipulation of those who are least able to protect themselves. She writes well, and fulfills so many promises other writers offer, but never achieve.
I highly recommend you start at the beginning of the Damon's Mountain series and work your way through. Then check out Ms. Joyce's other works. They are all solid entries in the Paranormal Romance genre, but are actually more than just a genre entry.
Reading Order for Damon's Mountain:
Lumberjack Werebear (Saw Bears, Book 1)
Woodcutter Werebear (Saw Bears, Book 2)
Timberman Werebear (Saw Bears, Book 3)
Sawman Werebear (Saw Bears, Book 4)
Bear My Soul (Fire Bears, Book 1)
Axman Werebear (Saw Bears, Book 5)
Bear the Burn (Fire Bears, Book 2)
Bear the Heat (Fire Bears, Book 3)
Woodsman Werebear (Saw Bears, Book 6)
Lumberman Werebear (Saw Bears, Book 7)
Gray Back Bad Bear (Gray Back Bears, Book 1)
Gray Back Alpha Bear (Gray Back Bears, Book 2)
Gray Back Ghost Bear (Gray Back Bears, Book 3)
Gray Back Broken Bear (Gray Back Bears, Book 4)
Lowlander Silverback (Gray Back Bears, Book 5)
Last Immortal Dragon (Gray Back Bears, Book 6)
A Very Beastly Christmas (Gray Back Bears, Book 7)
Boarlander Boss Bear (Boarlander Bears, Book 1)
Boarlander Bash Bear (Boarlander Bears, Book 2)
Boarlander Silverback (Boarlander Bears, Book 3)
Boarlander Beast Boar (Boarlander Bears, Book 4)
Boarlander Cursed Bear (Boarlander Bears, Book 5)