"The world that we all knew before, could wake up in feeling safe… now it seems that everything has been turned upside down." – Tori Amos
Charlie Kale's life has turned upside down, in so very many ways. Her live-in got sick, so she took care of him, working her ass off as a semi driver. Then? He walked out on her. Don't let yourself be fooled – yes, there is a lot of just sitting there, when you drive. But there is a lot of stress, a lot of people cutting you off and acting stupid. And when you weigh 80,000 lbs. or more, getting started and stopped can mean death for the idiot in the convertible, the minivan, the SUV. But Charlie (and yes, that is what is on her birth certificate) loves her new job and her coworkers. Yes, she is torn up over the loser dumping her, but she knows she can pull it together and get on with her life – and this time she can start spending her own money.
Well, for about five minutes. Then? She is hit from the side by what appears to be a drunk driver, hit hard enough to knock the tandems out from under her trailer. The truck flips, which is bad enough. Hey, at least it didn't blow up and burn with her and the tiny dog she found on the side of the road not a half hour before inside. Her life is lying on its side, but they are both alive.
Annnd then . . .
What was that hairy black thing that slammed into her windshield? And then there is the guy with the blood on his shirt and the gun pointed at her head, seemingly determined to Shoot. Her. Dead. Wow. Attitude much? That is bad enough, but what comes next is a nightmare of unbelievable proportions. Everyone is apparently determined to murder Charlie, and her own body has apparently joined the party. An ancient secret society, populated solely by men, are determined to make sure that Charlie is put down before she can grow into who they think she is destined to be. Oh, and BTW?
Monsters are real.
Charlie is one of the most special female heroes I have run across in a long time, simply because she isn't really a hero at all. Chubby from too many hamburgers and too many hours behind the wheel, she is perfectly normal. Yes, once 'turned on' she has a 'superpower'. But it isn't one she can control. She can't kick ass and take names – she is more likely to trip over her own feet, which she does quite often. Stumblin' bumblin' trying to make it through the day, totally out of her element. But she is willing to at least try – though the whole idea of "Everyone is out to slaughter and I have no one to trust" and oh, BTW, that whole "monsters are real" thing? Yeah. Not so much fun. I love Charlie, and the supernatural storyline is unique and kept me reading way too long into the night, till I could barely hold my eyes open. And then? Well, I grabbed the second in this two-book series and kept reading, of course!
Monsters and Markers (The Markers Book 2)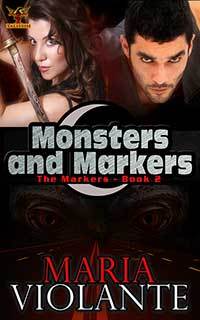 "I don't know of any other creature on earth other than man that will sit in a corner and cry because of some painful experience in the past." –  Pat Morita
Book 2 of The Markers series opens immediately after the first book. Charlie has finally escaped from the horrors of the Markers compound, but at a horrific cost. Oh, and let's not forget the whole Just-fled-for-my-life-and-was-ambushed-by-Captain-Anger-Issues-and-Mind-Rape-Man thing. Cause, ya know, her life isn't hard enough as it is, right? On the run, fleeing the most powerful secret society in the world, monsters beyond your wildest nightmares, weird glow powers she doesn't understand. And then you are stuck in the back of a Buick after a five hour drive with no bathroom breaks listening to the world's most annoying males bicker like preteens . . . can someone just please, please stop the world? Charlie is quite ready to get off and enjoy a little peace, quiet and safety, thank you very much. Instead, things go from bad to worse . . . to "Which one of these guys who are claiming to be determined to save me is really a traitor to our little group?"
I greatly enjoyed book 1, Birth Marked, and this second volume didn't in any way let me down. Maria Violante did a wonderful job in creating a believable supernatural world set within our own, and some really vile bad guys who are at the same time truly believable. I had expected a good second book, and I wasn't disappointed.