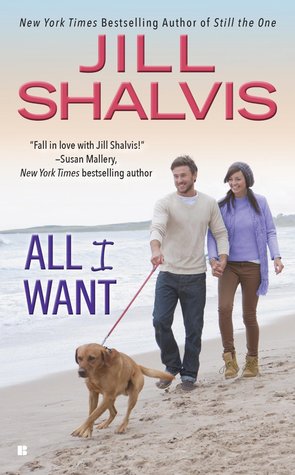 "Got your 911 freak-out text." Zoe is freaking out, that is true. After raising her brother and sister pretty much on her own (tell me – what kind of parents tell their twelve-and-under children that they will meet them in Budapest, and then don't show up for three days? Even if they are diplomats, surely they could have sent someone from the consulate to watch over their kids!) Zoe is finally on her own in the home she inherited from her grandparents. She is going to fix it up and live there. Finally have a normal life, with dates and everything. Of course, it would help if she actually had any carpentry skills – at all – and it would also help if she didn't get stood up for her first blind date. But she has a dog, a rescued Bernese mountain dog, and her brother and sister love her. She adores her life as a private pilot and flight instructor, so everything else is pretty much OK. Even if she does get lonely sometimes.
But back to the date. Zoe opens her front door and, taking her younger, engaged sister's advice, gives the hunk on her doorstep a peck on the lips. Only. Oh, snap. It isn't her date. It is her brother Wyatt' best friend, Parker James. Parker James, who is to be her tenant for a while. Embarrassing!
Parker sort of likes that kiss. But he is only there for a while, and then he is back to DC in his job as a supervisory special agent for the U.S. Fish and Wildlife Service. He is supposed to be on vaycay after the death of his partner who was murdered during an attempt to arrest a wildlife trafficking ring. A trafficking ring that is behind a large part of the thirty thousand elephants slaughtered last year for their ivory, thousands of rhinos slaughtered for their horns, and countless tigers, leopards and other endangered animals whose very existence as balanced on a razor's edge due to poaching. Now, Tripp Carver, the man who killed Parker's partner and nearly killed Parker himself, is planning to move 4.5 million dollars' worth of death and agony from a hidden location in Idaho, a place called Cat's Paw. Parker isn't supposed to be there. He is supposed to be resting someplace warm and far from Carver. The FBI and the ATF, and multiple other alphabet agencies, apparently have a 'deal' with Carver to turn in his brother, the head of a dangerous militia group. Carver is to go free. But Parker won't have it. All that death, all that horror, his partner's life. No. Just No.
This is, of course a romance novel, and Jill Shalvis is good with those, especially when you bring animals into the story. Oreo the Bernese is a favorite character of mine in the story. Rescued from a brutal situation, he is absolutely hysterical as he deals with a new person in the house, two new rescued kittens (he is terrified of kittens, go figure!) The story of the cruelty and uncaring slaughter of rare animals by monstrous human poachers is heartrending, and I really appreciated Ms. Shalvis addressing the situation in an intelligent and knowledgeable manner. And the clown show of the ATF, FBI and other agencies all tripping all over themselves to give Carver an out in order to capture "bigger fish" shot my blood pressure through the roof – because I know that nonsense is spot-on. If you enjoy romance novels with strong women characters (I loved Zoe's strength) and great animal characters, this is the perfect books for a lazy Sunday afternoon.
I received All I Want from the publisher in exchange for a realistic review. All thoughts are my own.
PS – That dog on the cover? Not a Bernese mountain dog. Just sayin'. And Idaho? No beaches there! I would highly suggest a new cover. One that has even the slightest congruence with the story would be good.