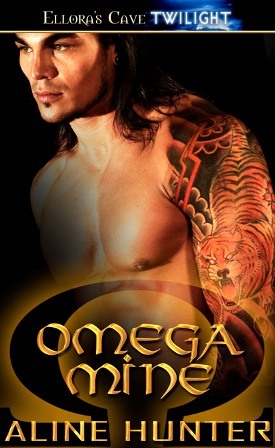 Yes, Virginia, there IS such a thing as too much sex in PNR.
Last night (if you know me, you know that I have vampire tendencies – I mostly sleep during the day and work at night) I decided to put down my tablet and attack spring cleaning. Also having two different pairs of Bluetooth headphones to test, I decided to find a PNR author I hadn't read before on Audible.com. I found Omega Mine by Aline Hunter, narrated by Maxine Mitchell, a narrator I hadn't listened to before. Nearly 10 hours of audio? Bonus.
First, Maxine did a great job. I will be looking for other books narrated by her. And Ms. Hunter's actual story concept was quite good. Ava Brisbane is a bartender in a shifter bar, well loved by those she works with. Shifters aren't "out" in this world, and they work hard to hide their existence. Ava has to hide hers as well – she is a telepath, who can read humans, but not shifters – hence her understanding that the bar she works in is 'different'. The world building is good, and different enough that it held my interest, and I wanted a lot more of the storyline, characters and world building. The thing is, a good ¾ of the book is just sex between the main characters. Now, don't get me wrong, I am perfectly fine with sex in my PNR – I like it, in fact. But the amount of nookie in this book overwhelmed everything. It became more about the sex than the story, and I found myself hitting the "scoot forward 30 seconds" button over and over to see if we could get back to the story by 1/3 through the book. And as the nookie got more and more violent? I just skipped through the moment the main characters got anywhere near a flat surface . . . or a wall . . . or a stool . . .
Overall, I would have really liked this book for the story. But the sex was, literally, too much. Which is a shame, as it took away from everything for me. Now, if you are one of those who would prefer to read sex scene after sex scene with basically no story other than the nookie, grab this one fast, you will love it. If you don't like sex at all in your books? Run. For me, give me sex that contributes to a good story and I am way happy, but this one was just over-the-top for this reviewer.